Logging into PlayMetrics on a computer or mobile phone (via a mobile browser or the PlayMetrics app*) places you into your custom dashboard. Below is an example of a Player/Parent dashboard with key features highlighted.
*See "Adding the PlayMetrics app to your mobile device."
Most information and tasks can be accessed directly from the dashboard. 
Note: Often a Parent is also a Team Manager. To easily switch between these two accounts, see "How do I switch between accounts/roles?"
Accessing your Players
Selecting your Player's name will open the Player profile.
From the Player profile, Parents can edit the details of their Player, access Player evaluations and other Forms, and manage the contacts for a Player. See "How do I change a Player's Primary Contact?" for more.
Consolidated Calendar
To access your consolidated schedule, select CALENDAR from the left-hand menu or via the menu icon on a mobile phone.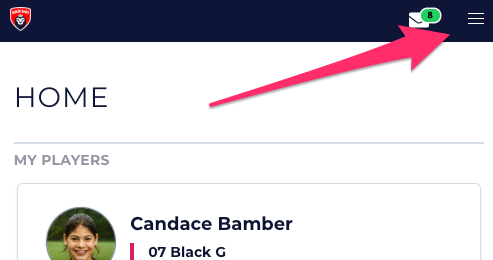 mobile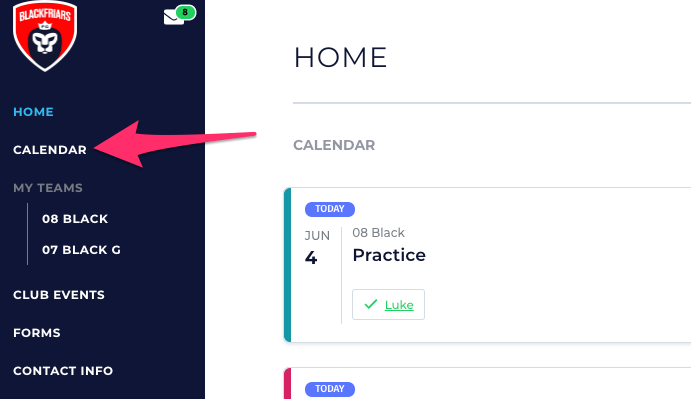 desktop
The Calendar consolidates all of your Players' events. Selecting an event will uncover additional details.
Calendars can be viewed by week (pictured above), month, or as a list view.
Sync Calendar
By selecting the Sync Calendar button, you can subscribe to individual Player Calendars.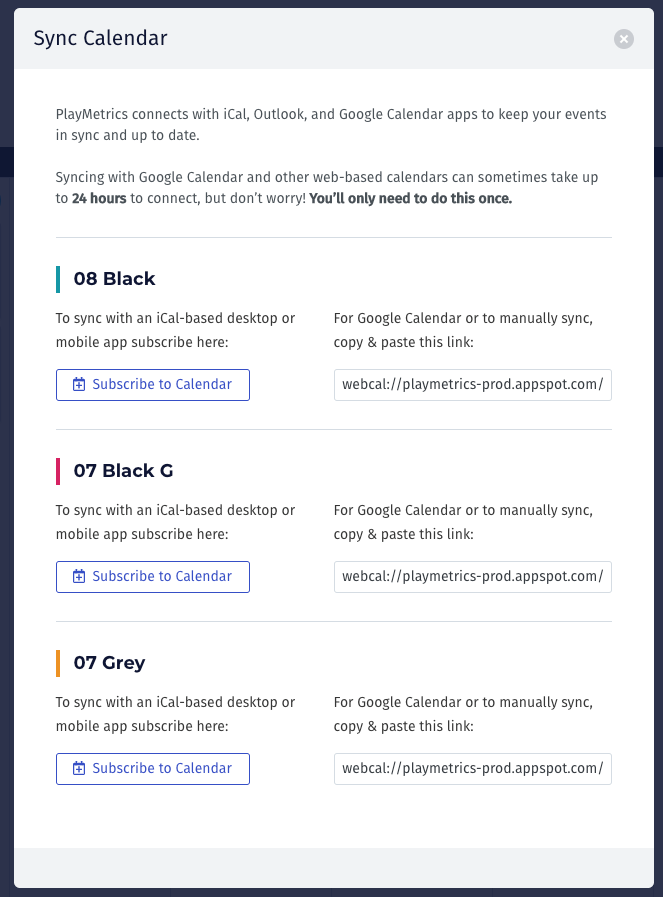 For more, see "How do I sync my Team Calendar with my personal Calendar?"
Setting Player Attendance
If your club is asking Players to set their attendance, you will see the Player's name within each event as seen below.

Simply select the name and set the attendance for the event.
Accessing your Player's Team
By selecting a Team from the left-hand menu, you can access more information on a Team, including resources, Coach information, roster, and more.
Setting Up Contacts for your Players
If you are the primary Contact for a Player, you can add additional contacts that should have access to a Player and receive communications. Select CONTACT INFO from the left-hand menu to manage Contacts.
See "Adding additional contacts to your account" to learn more.
Communications
PlayMetrics provides a complete Communication system to every Player, Parent, Coach, Team Manager, and Director. In addition to sending and receiving communications within the Team or with the Coach, you will be automatically notified when Field Schedules are changed, Forms need to be completed, or a new game has been added.
To learn more about PlayMetrics Communications see the articles below:
Understanding PlayMetrics Communication Tools
Setting communication preferences